New reflection on the liturgy. Apostolic Letter - Desiderio desideravi
The Liturgy – a dimension fundamental for the life of the Church has been given a renewed focus. Pope Francis has written an Apostolic Letter (29 June 2022) on the liturgical formation of the People of God. Titled Desiderio desideravi – "I have ardently longed" derives from the words of Jesus, with which the account of the Last Supper opens. (Lk22:15). This letter outlines Pope Francis' theology of the liturgy derived from the principles spelled out in Sacrosanctum Concilium.
The Letter describes how the true liturgical life is not conformity to rules, nor ceremonial display to defend the sacredness of the rites, but to the capacity to announce the mystery of a God in Jesus Christ as a God of tenderness and mercy.
"Every paragraph in the new Apostolic Letter is filled with the awareness that liturgy is first and foremost about making space for the other – the true antidote to any form of inadequate celebration."
Andrea Tornielli (Editor Vatican News 30 June 2022)
You can view and download Desiderio desideravi HERE
A short video from Fr. John Baldovin, S.J., Professor of Historical and Liturgical Theology at the Boston College School of Theology and Ministry, explains the new Apostolic Letter on the liturgy. HERE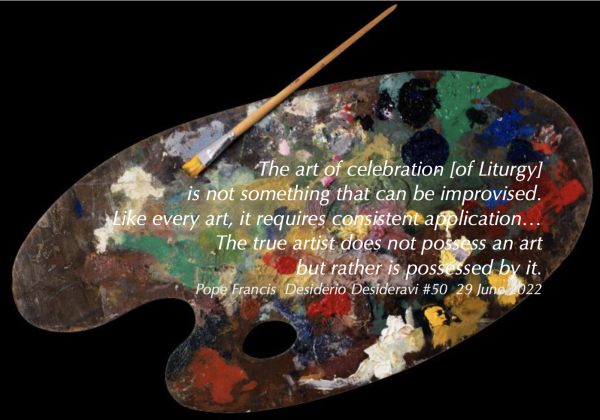 More to come on this in the days ahead.